SLW-D Diesel engine wet mix mortar wall plaster machine
Product Details:
| | |
| --- | --- |
| Place of Origin: | Zhengzhou,China |
| Brand Name: | SINCOLA |
| Certification: | ISO,CE,SGS |
| Model Number: | SLW120D,SLW150D,SLW180D |
Payment & Shipping Terms:
| | |
| --- | --- |
| Minimum Order Quantity: | 1sets |
| Price: | USD3798-6890 |
| Packaging Details: | Standard wooden packing OR Nude Package in 20ft container |
| Delivery Time: |  2days |
| Payment Terms: | L/C, D/A, D/P, T/T, Western Union, MoneyGram |
| Supply Ability: | 15 set/month |
Model
SLW120
SLW150
SLW180
Output
100-120m2/h
120-150m2/h
120-150m2/h
Max.conv,dist
10m
15m
20m
Max.Aggregate.size
<4mm
<5mm
<6mm
Hose inner size
25mm
32mm
38mm
Air pressure
0.2-0.6Mpa
0.2-0.6Mpa
0.2-0.6Mpa
Power
4kw
5.5kw
7.5kw
Voltage
380v,415v,440v    50Hz/60Hz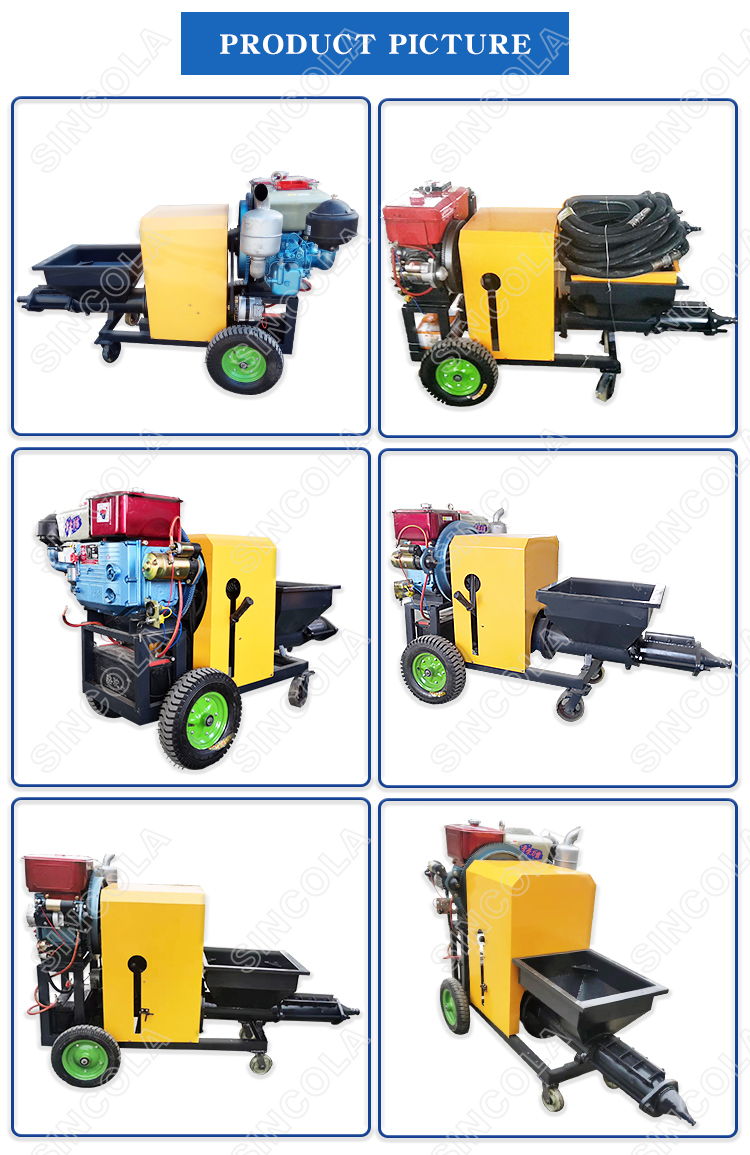 First, very high painting efficiency. Spraying efficiency of up to 500-1200 square meters per hour, is more than 10 times the traditional roller construction, air compressor spraying more than 3 times.
Second, excellent surface quality. Spray coating smooth, Guanghua, dense, brushless marks, rolling marks, and particles.
Third, extend the coating life. High pressure airless coating can make the paint particles into the wall of the gap, so that the film also formed a mechanical wall bite, enhance the adhesion of paint to extend the service life.
Fourth, easy to overcome the corner, the gap and uneven parts difficult to brush
Fifth, save paint. In the use of brush thickness is extremely uneven, generally 30-250 microns, the paint utilization rate is low, and no air spray is easy to get the thickness of 30 micron coating, the relative saving paint 20-30%.
Sixth, no air spray can use the extension rod, ranging from 50cm to 5m, can be docked to achieve the separation of the human body nozzle. Do not have to climb to be able to spray 5-meter-high wall, while reducing the paint on the human body damage.
High pressure airless spray high efficiency, the surface fine and smooth, strong adhesion, paint loss and less construction, machinery, ships, furniture and other industries widely used.
Putty spraying machine  has a wide range of multi-functional applications, including real stone paint, rock paint, putty, primer paint, interior and exterior wall paint, imitation stone paint, water-borne watercolor paint, brushed mortar, cement slurry, bonding mortar, thick fire-resistant materials, etc
The machine driving power comes from the air compressor, the structure is simple, simple operation, easy to use, high efficiency, a machine instead of at least 5 workers spraying speed
Machine weight light, flexible, convenient and practical, solid and durable, and also have exclusive patent.
 Inquiry Sincola Whatsapp Wechat Line:

+8613027728770